News Archive
A Delegation from the British Council Visits Hebron University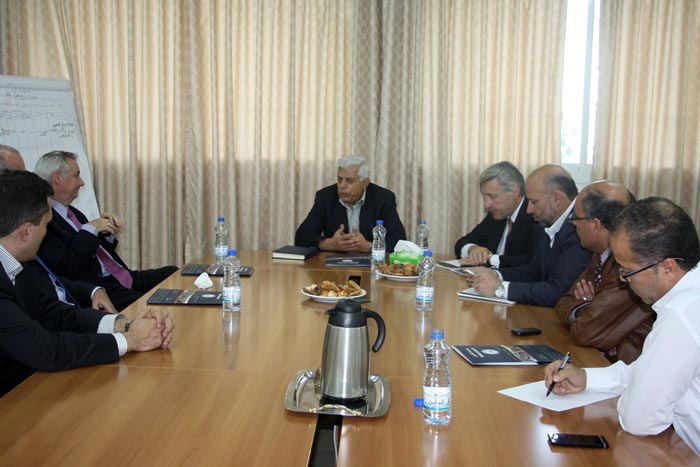 President of Hebron University Prof. Dr. Ahmad Atawneh received a delegation from the British Council which included the chairman of the Council in London Mr. Vyron , the director of the British Council for the Middle east and North Africa region Mr. Adrian Chadwick and the director of the British Council in Palestine Mr. Alan Smart in the presence of Dr. Bassam Al-Manasreh the Academic Vice President and Dr. Salah Al-Shrouf the Dean othe faculty of Arts.
Prof. Dr. Atawneh welcomed the visiting delegation and he gave a glimpse about the establishment of the University and the stages of its development as well as a detailed explanation about its academic programs. The President went through the development witnessed by the University in the various construction and academic domains through the research and projects carried out by the University.
On his part, Mr. Vyron thanked the University President for receiving the delegation and he congratulated him for his new post. Mr. Smart the director of the British Council in Palestine indicated that the relationship between the Council and the University is a distinguished relationship. He put forth ideas about the possibility of developing the joint cooperation between the University and the British Council specially the study grants program (Hespal) and the international English language test (EILTS) which is held in the campus of Hebron University. Mr. Smart emphasized that the Council is in the stage of studying joint cooperation with Hebron University to hold sessions for teaching English in its various stages in cooperation with the University.
The Academic Vice President Dr. Manasreh pointed out the importance of joint cooperation with the British Council. He emphasized the necessity of achieving joint twinships between the faculties of Hebron University and British faculties through which exchange of academic cadre, joint research , conferences and workshops are done. Dr. Salah Al-Shrouf Dean of the faculty of Arts explained the cooperation existing between the British Council and Hebron University . A joint talk took place among the conferees about the problems and the impediments which face Palestinian universities in general through the economic circumstances faced by the Palestinian people, shortage of academic cadres and the checkpoints and security barricades imposed by the Israeli occupation which form an impediment for the movement of the students and academic cadres inside and outside Palestine. At the end of the meeting a short film about the stages of the development of the University nad its future development plans was shown.