News Archive
Hebron University receives delegation from Palestinian Ministry of Foreign Affairs and Expatriates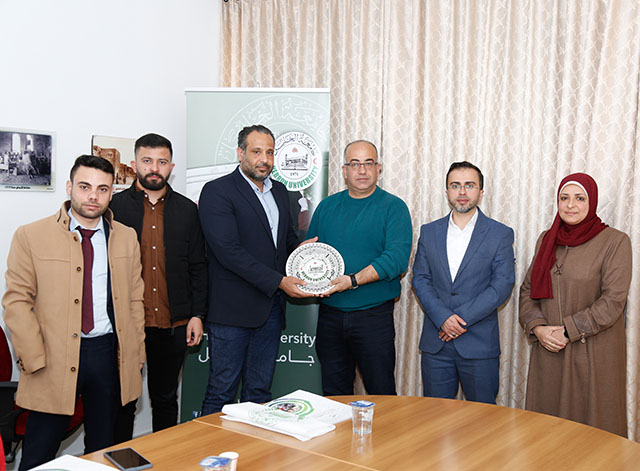 Hebron University received a delegation from the Palestinian Ministry of Foreign Affairs and Expatriates, which included Mr. Bassem Ajwa, Advisor to the Chief of Staff for Public Diplomacy, and Mr. Muhammad Al-Saddah and Tamer Shehab from the Department of Public Diplomacy, and they were received by Dr. Ahmed Al-Sweiti, Dean of the College of Law and Political Science, Dr. Bilal Al-Shobaki, Head of the Department of Political Science, and Ms. Mona Rezeigat from the Department of Public Relations.
A video depicting the progress at Hebron University was displayed. Following this, Mr. Bassem Ajwa presented the ministry's vision, which aims to institutionalize cooperation with the University and begin implementing cooperation programs in the field of training university students and Ministry of Foreign Affairs staff.
Dr. Ahmed Al-Sweiti and Dr. Bilal Al-Shobaki explained the college's specializations, projects that have been implemented, and potential opportunities for collaboration with the ministry, and expressed their willingness to collaborate with the ministry in the fields of training and scientific research, and it was agreed between the two parties to begin first hosting students expected to graduate from the Department of Political Science and the Department of Public Administration.
Later phases of communication will involve the start of collaboration with other disciplines at the institution, in accordance with an interdisciplinary vision and in an integrated framework.