News Archive
Receiving (PAMA) and announcing grants to HU students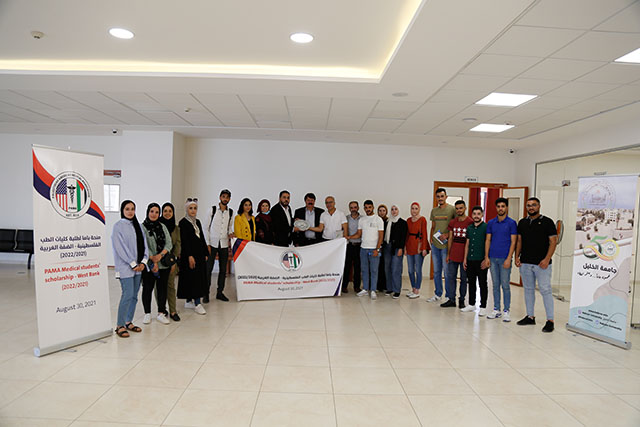 Hebron University received a delegation from the Palestinian American Medical Association (PAMA). The delegation included Dr. Ma'an Thi Na'irat, representative of the Association in Palestine, and Mrs. Sama Abu Aisha, Director of the Association's Office in the West Bank.
Dr. Nabil Al-Hassasneh briefed the guests about the university ,its research, academic and community interests, and stressed the need for cooperation and communication with the institution to serve the students and the community alike.
The Dean of Student Affairs, Dr. Salah Al-Sharouf, welcomed the delegation and thanked the PAMA Foundation for the important role it offers to the Palestinian health sector and the grants the University offers to students.
Dr. Moaz Na'irat, representative of the PAMA Foundation in Palestine gave a brief presentation on the Foundation, its assistance to medical students in Palestinian universities and to the Palestinian health sector.
Dean of the College of Medicine, Dr. Ghassan Abu Hajleh, thanked the founders of PAMA for all the services they provided to students and the Palestinian community.