News Archive
The 2nd International Conference on Language and Literature at Hebron University
Conference attendees and organizers
Under the patronage of Hebron University Chairman of the Board of Trustees Dr. Nabil El-Jabari, the Department of English Language and Literature held the 2nd  International Conference on Language and Literature, in the presence of representatives of the Directorates of Education in the Governorate of Hebron, a number of scholars in the field of English and French languages, university academics and students.
Dr. Nader Hijazi, a member of the University Board of Trustees welcomed the participants on behalf of  the Chairman of the Board of Trustees.
The two-day conference sessions included the latest trends in linguistics, technology in the classroom and methodology of teaching and learning.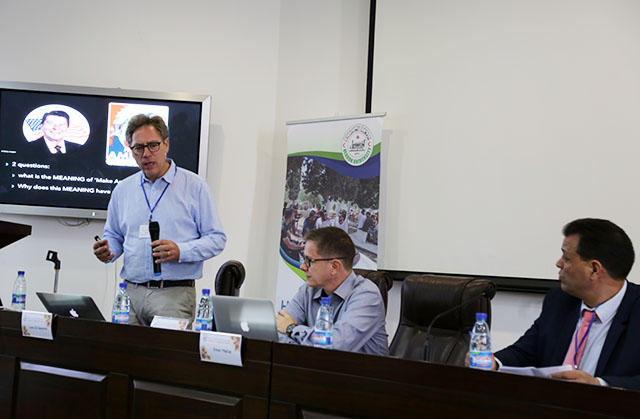 Opening session: Prof. Louis De Saussure and Dr. Didier Maillat
Speakers included Prof. Louis De Saussure - University of Neuchâtel, Dr. Didier Maillat - University of Fribourg, Dr. Abdula Baida, Professor of French at the University of Rabat, Morocco, Mr. Zuhair Zgheggi, Professor at the University of Morocco, Professor Touhami Benjeddi - Ministry of Higher Education and Scientific Research , Morocco, Dr. Rachid Yassine - Gaston Berger University, Senegal, Mr. Steve Wachter from the USA, among others.