WHO WE ARE?
The idea of establishing a university in the city of Hebron became prominent in the minds of a group of citizens headed by the late Sheikh Muhammad 'Ali El-Ja'bari. Hebron University, the first university in Palestine began in 1971 with the Islamic Shari'a College. At the time forty-three male and female students joined the college from different parts of Palestine. In 1980, the college was renamed as Hebron University to include the College of Arts. Since then the University has continuously expanded to accommodate 13 colleges.

more >>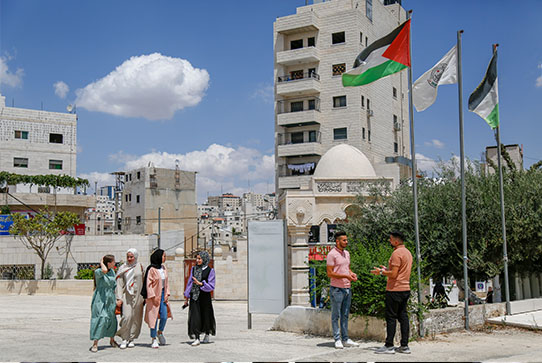 Our Mission
Hebron University strives to promote excellence by providing quality, academic teaching, training, research and relevant community programs within the context of sustainable development, emphasizing social conscience and democratic values. In addition to providing students with the opportunity to realize their educational ambitions, the University aims to empower students to be productive citizens and active members of their community. It is the policy of the University to promote free expression and interaction among students, teachers, and the surrounding community.

Our Vision
Hebron University is dedicated to students in a dynamic and supportive learning environment. Our graduates develop the professional and personal skills required to realize meaningful careers and make a difference in the world
SDG - "SUSTAINABLE DEVELOPMENT GOALS"
HU'S COMMITMENT
HU'S COMMITMENT TO SDG 2030