News Archive
A delegation from Gothenburg University- Sweden visits the campus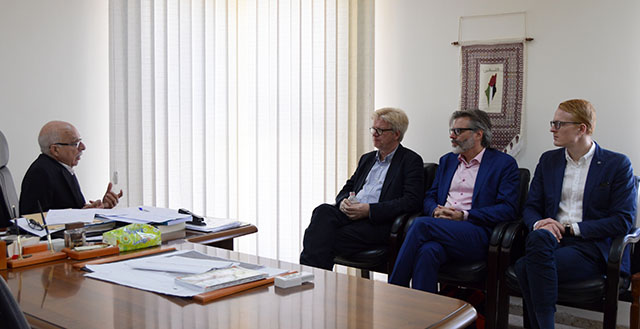 A delegation from Gothenburg University- Sweden visited Hebron University. Dr. El-Jabari received the delegation and spoke about the deep historical relationship between the two countries and he talked about the bad situation of the Palestinians due to the Israeli procedures on the ground. He also denounced the world's silence towards the Israeli crimes of frequent attacks on Al-Aqsa Mosque and the policy of house demolitions and the continued killings of our people. Dr. El- Jabari then spoke about the difficulties the university faces on the process of development amongst disallowing the exchange of lecturers with Arab and international universities particularly those who are expected to work at our university. Professor Rogers, head of the delegation spoke about the importance of the visit and he thanked Dr. El-Jabari on his warm reception. He stated that the University of Gothenburg is ready to cooperate with Hebron University in all areas that serve both sides. The head of the delegation presented a commemorative gift to Dr. El- Jabari.

The delegation had a meeting with the Vice President for Academic Affairs Dr. Mai Maghatheh and a number of deans. The delegation watched a film about the evolution of the university, and then the two sides discussed the proposed areas of cooperation in the realms of capacity building, developing ways of teaching and learning in addition to the virtual education and students' mobility.

The delegation visited College of Education, where they were greeted by the Dean of the College Dr. Kamal Makhamreh who spoke about the evolution of the college over the years and now is the largest college at the university. He also stated that the college offers a master degree in Educational Psychology. The head of the delegation stressed the possibility of cooperation in various fields and expressed his admiration for what he saw from facilities and services at the university.

The delegation alsovisited the University Model School.