News Archive
University and the US Salam Institute Organize a Training Course on Nonviolent Communication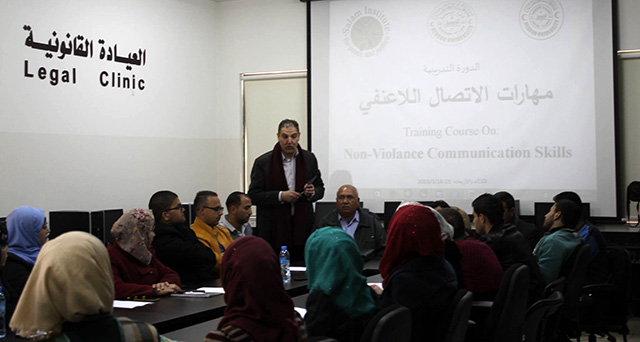 The Hebron University College of Law and Political Science, through its legal clinics, in cooperation with the US Salam Institute (a Washington DC-based NGO), organized a specialized training course on "Nonviolent Communication Skills". Dr. Mutaz Qafisheh, Dean of the College, open the training and stressed the significance of holding such exercises as they contribute to improve students' capabilities to effectively communicate with various stakeholders at the local and international levels. Such training also prompts law and political specialists to seek solutions to disputes by peaceful means in lieu of friction and conflict.

The course addressed topics such as the concept of conflict, transformation of conflict into dialogue, social change, peaceful settlement of disputes by focusing on the interest of various sides of the conflict, win-win problem-solving techniques, as well as negotiation, conciliation, and mediation skills. The training lasted for two intensive days and was led by a number of trainers: Dr. Amal Hadweh, Mr. Amin Bayed, Mr. Ismail Abu-Assad, Mr. Asaad Abu-Assad, Mr. Abdelrahman Talahmeh. The 25-particpating students received attendance certificate at the end of the training.

It is to be noted that this is the second training that organized by the College of Law and Political Science on nonviolent communication skills in collaboration with the US Salam Institute.