News Archive
Dean of College of Law and Political Science Delivers a Lecture in the Netherland on International Criminal Court and Palestine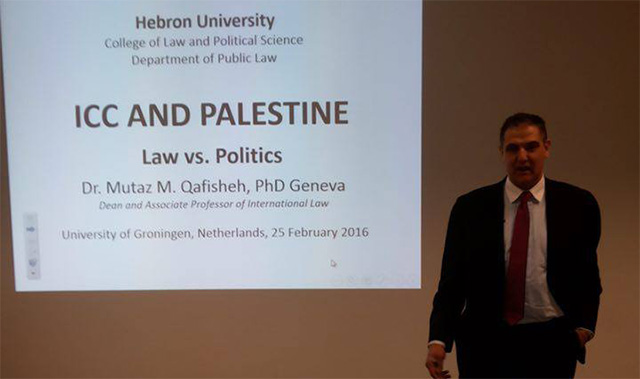 Dr. Mutaz Qafisheh, Dean of the Hebron University College of Law and Political Science and Associate Professor of International Law, presented a lecture in the Netherland on the "International Criminal Court and Palestine: Law vs. Politics", upon an invitation by Dr. Marcel Brus, Professor of International Law at the University of Groningen and Director of Studies at the International Law Association, London (in which Dr. Qafisheh is a member). The lecture was attended by some 50 people, including professors, PhD candidates, MA students in the fields of law, international relations, and human rights activists.
Dr. Qafisheh introduced an overview regarding the legal as well as political opportunities and challenges arising from Palestine's accession to the Rome Statute of the International Criminal Court. An interesting debate took place on the challenges that face Palestine in approaching ICC, the strategy and tactics in respect to submission of cases and the priorities thereof.
The lecture was moderated by Prof. Brus. He encouraged students to study the question of Palestine as a means to support the victims, particularly as obligations towards Palestine pose legal as well as moral duties on the international community as a whole. Dr. Qafisheh and Prof. Brus discussed possibilities of cooperation, including exchange of students, the possibility for Palestinian students to study in University of Groningen at MA and PhD levels.
It is to be mentioned that Dr. Qafisheh is currently in the Netherlands along with the deans of four Palestinian law schools (Hebron, Al-Quds, Birzeit, and An-Najah) to develop a program of cooperation with a number of Dutch universities as part of a project funded by the Netherlands Ministry of Foreign Affairs that would last for four years.