News Archive
HU celebrates founding Palestine's Nutrition Students Federation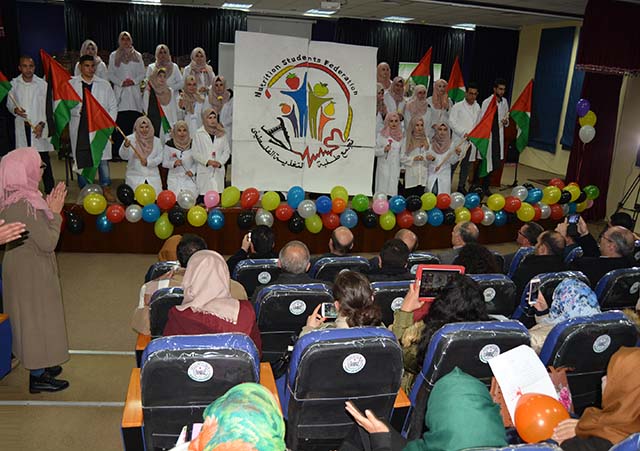 Nutrition and Food Technology Departmentof HUCollege of Agriculture has held a celebration marking the launch of the Nutrition Students Federation of Palestine. The celebration was attended by Hebron University President, Dr. Salah al-Zaroo Vice-President for Administrative Affairs, Mr. Mohammed Ziad Al-Jabari, Dean of the College of Agriculture, Dr. Ayed Salamah, chairs of the departments of the College of Agriculture, chairs of nutrition departments and nutrition major students from other Palestinian universities, and a number of representatives of Palestinian ministries, hospitals, institutions and companies.

Conveyingthe greetings of HU Chairman of the Board of Trustees, Dr. Nabil Al-Jabari, Dr. Al Zaroo welcomed the attendees, expressed his delight and pride in the achievement of HU nutrition major students, and emphasized HU Administration support for creative initiatives by students.

In his speech, Chairman of the Department of Nutrition and Food Technology, Dr. Sabri Sughaier, thanked all those who contributed to the success of founding a federation for nutrition specialists in Palestine. He described the idea as constructive, believing that the NSF is expected to play a great role in serving the local community.

Speaking on behalf of the initiators, student NoorNagar, head of the NSF founding committee, expressed her happiness for the success of this idea and thanked HU Administration and the faculty of the Department of Nutrition and Food Technologyfor adopting this creative idea which is the first of its kind in Palestine.

Thecelebration included a theatrical presentation, titled "I Have a Big Pot Belly," by the Palestinian actor Abdulmughni al-Jabari. It also included performances by HU Scoutand Guide GroupandDabke Troupe.

At theend of the event, a video made by the photographers Fathi Edkaidek and Bilal at-Taweel was played about the Department of Nutrition and Food Technology. It is worth mentioning that the celebration was sponsored by Al-Jebrini Dairy & Food Industries Co.