News Archive
Law School Hosts Professor Andreas Zimmerman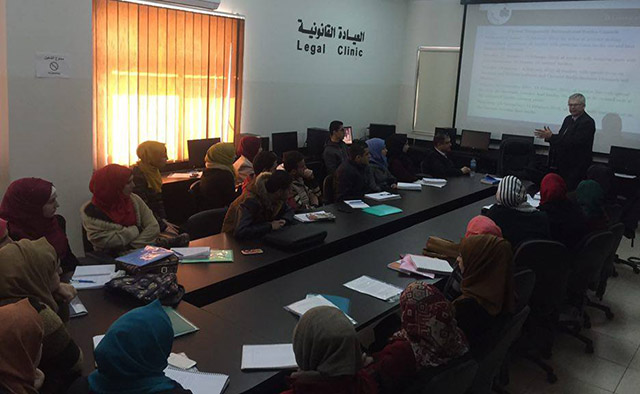 Hebron University College of Law and Political Science hosted Professor Andreas Zimmerman, a Professor of International Law at the University of Potsdam in Germany, an expert on international refugee law, who gave a lecture as part of "International Refugee Law" Course, which is compulsory course for students of HU Department of Public Law.

Prof. Zimmerman presented a specialized lecture on the current legal status of refugees in Europe, especially refugees arriving in Germany from the Middle East, particularly from Syria. The lecture began by a brief overview on the protection of refugees in international law. He introduced the European standards for the protection of refugees, particularly under the European Convention on Human Rights and the Dublin Regulation and the changing polices in the context of the recent unprecedented mass influx. The lecture focused on the status of refugees in Germany, as a case in point from the European Union zone. The expert also addressed the current state of affairs and the future prospects of refugee law and politics.

Prof. Zimmerman is the editor for a comprehensive commentary on the 1951 Geneva Convention relating to the Status of Refugees and its 1967 Protocol, published by Oxford University Press in 2011, with a contribution from Dr. Mutaz Qafisheh, Dean of the HU College of Law and Political Science and Associate Professor of International Law, who co-interpreted Paragraph "D" of Article 1 of the said convention with regard to Palestinian refugees.