News Archive
HU Alumni Unit holds workshop with IYF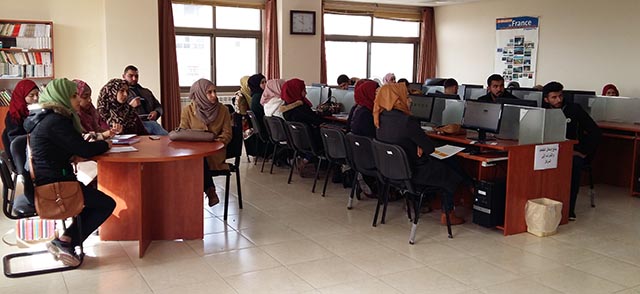 Alumni Unit of Hebron University has organized today a workshop on the electronic portal "Ta'mal" in cooperation with the International Youth Foundation.

Twenty five students from all disciplines participated in the workshop.

Mr. Jacob Sa'd gave a presentation about the services of the portal, such as vocational guidance, training courses (more than 2000 training course are available), CV writing, psychological motivation, tips for job hunting, skill building, recruitment, entrepreneurship, personal skills, and the like.

Mr Sa'd also gave an opportunity for the participants to inquire about the portal and the opportunities to be provided by the institution to those who may volunteer with them. Finally, Alumni Unit coordinator, Hadeel Qaimari, thanked the IYF and expressed HU happiness and willingness to cooperate with them on a permanent basis.