News Archive
Street Law Campaigns by Hebron University Legal Clinics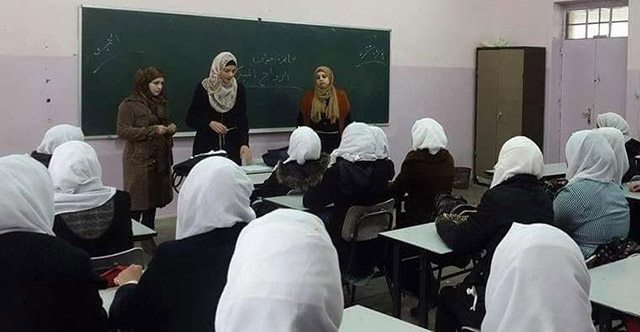 Within the Street Law Program (public community rights education), and through the Hebron University (HU) Legal Clinics, two groups of HU law students organized awareness campaigns that targeted a number of schools. The first group targeted boys of Ibn Rushd and Mohammad Ali Jabari schools in Hebron city, and focused on the phenomenon of school drop-out and its risks, causes and how to solve it. The second group was directed towards female students of Khadija Abdeen School, and discussed the subject of child marriages; students were made aware of the causes and risks of such marriages and acquainted with some legal and practical solutions.
These campaigns have been implemented through the distribution of leaflets to targeted groups and conducting presentations and dialogue sessions with teachers and students, which included discussions on relevant domestic and international standards, social/family conditions that lead to early marriage and to school drop-out, and solutions thereof on the levels of government, policies and practical measures to be adopted, such as hiring more inspectors to oversee social and psychological conditions of students and to punish those who cause children drop-out and those who force young girls to marry.
It is to be mentioned that this activity is carried out by six students within the course "Legal Clinic"; these students are: Mervat Qwaider, Kholoud Sammouh, Gofran Shehadeh, Isra Deeb, Rimah Zeer, and Rida Idris, under the supervision of HU legal clinics' staff, in coordination with the Ministry of Education and Higher Education.