News Archive
Dean of College of Law participates in Geneva Conference on Academic Freedom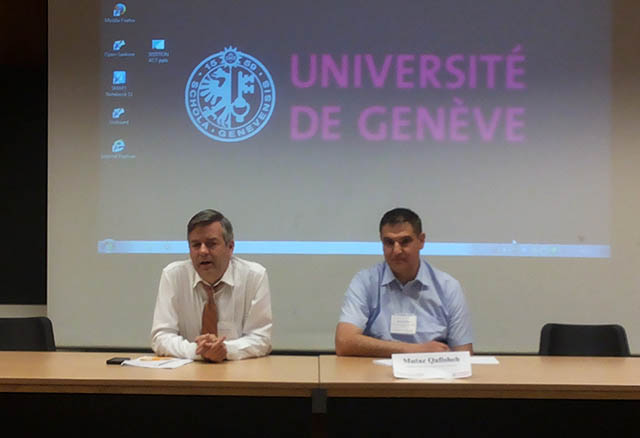 Dr. Mutaz Qafisheh, Dean of Hebron University College of Law, attended the international conference on the protection of academics, organized by "Scholars at Risk Network", an NGO hosted by New York University, that took place at the University of Geneva from 3 to 5 June 2015. Some 30 professors and experts in the field of academic freedom took part in the event, from the United States, Canada, South Africa, Australia, Democratic Republic of Congo, Paraguay, Belgium, Switzerland, Netherlands, Sweden, Norway, Malaysia, Venezuela, Ukraine, Latvia, Belarus, Turkey, Pakistan, Palestine, and other countries.

Speakers addressed protection mechanisms against attacks on scholars, including killing of academics, imprisonment, travel bans, disappearances, and dismissal from position. Participants focused on the protection in war zones, and under occupation, especially targeting students, bombing of universities, restricting the movement of students, professors and university staff. Special reference was made to Israeli attacks on Palestinian universities, such as the closure of universities, separating of the West Bank and Gaza students, settler attacks on academic institutions, storming universities by Israeli army, detention of professors and students.

Participants adopted proposals made by Dr. Qafisheh at the Geneva conference towards the global advancement of academic protection, including:

Working towards the establishment of the post of UN Special Rapporteur on Academic Freedom, separate from other existing special procedures, as this right/freedom has particular characteristics.

Cooperating with certain governments in order to pass a specific resolution by the UN Human Rights Council on the rights of academics.

At the long-run or medium-term, approaching the International Labor Organization to formulate a comprehensive international convention for workers in the field of higher education, incorporating universal standards on academic freedom, university's independence, protection against arbitrary detention and prosecution, murder, disappearance, travel bans, removal from position, and protect campuses from closures, shelling and invasion.

Setting up specialized university legal clinics to monitor and document violations against professors and students; the first clinic of such type in the Middle East is set to start in Hebron University at the beginning of next academic year 2015/2016.

Creating national networks to protect academics, including in Palestine.