News Archive
The Conclusion of a Workshop on Class Management and Methods of Teaching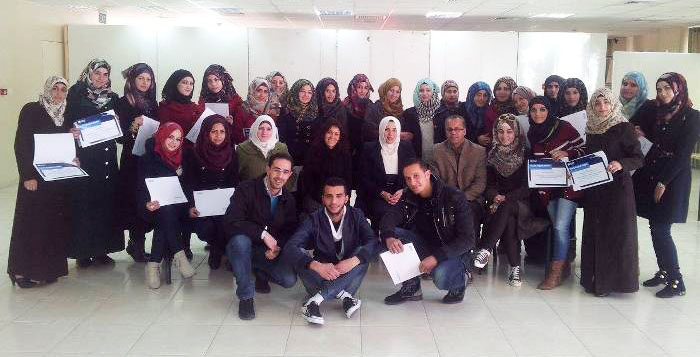 The English Department at Hebron University and in cooperation with the British Council concluded a workshop for (4th year students) on Class Management and Methods of teaching in addition to the communication skills between the teachers and students in the presence of Dr. Salah Shrouf, Dean of Faculty of Arts, and Dr. Raghad Dwaik, Head of English Department.
30 fourth-year students attended the workshop that started on Sunday 12/1/2014 and ended on Thursday 16/1/2014. They expressed their appreciation of the course as it introduces them to modern teaching methods and class management that could be utilized in their schools. They also expressed their gratitude for the English Department for conducting such workshops that opened for them new horizons in the academic fields especially, methods of English Language Teaching.
Julietta Schonemann, from the British Council, and Mr. Abd El-Karim Haddad delivered the workshop.
At the end of the workshop, certificates were presented to the participants. Then, the Head of English Department and the workshop coordinator thanked both Julietta Schonemann and the British Council for their great efforts exerted to make this workshop successful hoping to conduct similar workshops in the future.