News Archive
HU Chairman of the Board of Trustees Dr. Nabil Al -Jabari receives in his office the president and members of the Anti-Smoking Association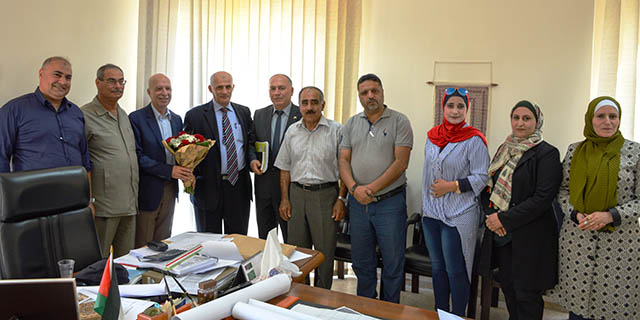 Hebron University Chairman of the Board of Trustees Dr. Nabil Al -Jabari received the president of the Anti-Smoking Association Mr. Majed Al-Shyoukhi and the association's administrative members in his office. Dr. Nabil Al-Jabari also listened to his guests on the activities and events that they hold in order to fight the smoking epidemic.
Mr. Al-Shyoukhi explained the association's mission which is mainly spreading awareness in schools and universities to create a smoke-free generation. To achieve this, the association organizes workshops and seminars explaining the harmful effects of smoking medically and financially. Al-Shyoukhi clarified that the sum of money Palestinian citizens spend on smoking has reached 2 billion Shekels per year, as well as the large contribution cafes make in spreading smoking hubs. He then requested that the Palestinian law banning smoking be put into action.
In turn, Dr. Nabil Al-Jabari praised the association's efforts, affirming that he supports them in helping create a Palestinian generation free of sicknesses which bring devastating effects on the human race. He added that smoking leads people - who are the basis of society- to crises and dangerous diseases, possibly resulting in death such as respiratory illnesses, heart and lung failure, strokes, and more. Smoking also threatens the health of pregnant women and their fetuses, and its effects are transferred to their children. Therefore, spreading awareness to parents and preventing them from smoking is crucial.
Dr. Nabil Al-Jabari further requested the president and members of the association to display the harmful effects of smoking on people through demonstrating ill cases being treated in hospitals seeing that it is the main cause of death.
Moreover, he assured that the university is insistent on banning smoking on campus and all facilities, and that the university will offer its services to the association in what it can so that it may continue to carry its noble message.
In the end of the meeting, the guest delegation thanked Dr. Nabil Al-Jabari for his kind hospitality and the contributions he makes in order to fight this deadly phenomenon, affirming that they will remain in contact to obtain his guidance which is considered to be their biggest support in the services they provide.