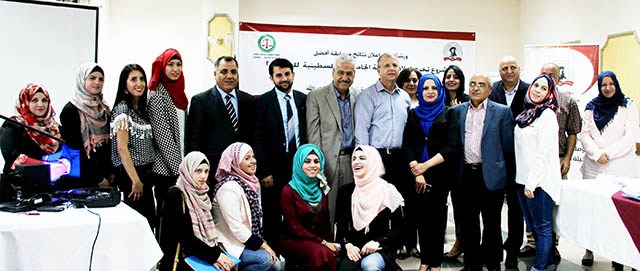 Hebron University students from the Department of Media won two awards forthe best media projects and investigations on anti-corruption issues. Media students from Palestinian universities in the West Bank and Gaza Strip competed in the Contest for the Best Media Project on Anti-corruption Issues organized by the Anti-Corruption Commission and the National Commission for the Independence of the Judiciary and the Rule of Law.

Miss Haya Drabia, a student from HU Department of Media won the third place for her graduation project, entitled "Al-Hayat Newspaper Coverage of Corruption Issues." Media students Miss Raghad Abu Sharar, Miss Oroub Rjoub, Miss Maha Tus and Mr. Mohammed al-Atrash won the fourth place for their investigation about the smuggling of fireworks to Hebron District.

Five works carried out by HU Media Department students qualified for the second phase of the competition in which nine works of Palestinian universities competed after these works had been shortlisted from among twenty works which participated in the first phase of the competition.

Mr. Tayseer Zubairi, Secretary of the National Commission for the Independence of the Judiciary, expressed his appreciation and admiration for all the distinguished efforts made by HU students in the first and second phases ofthe competition, pointing out that HU was the only University that submitted journalistic investigations on corruption issues.