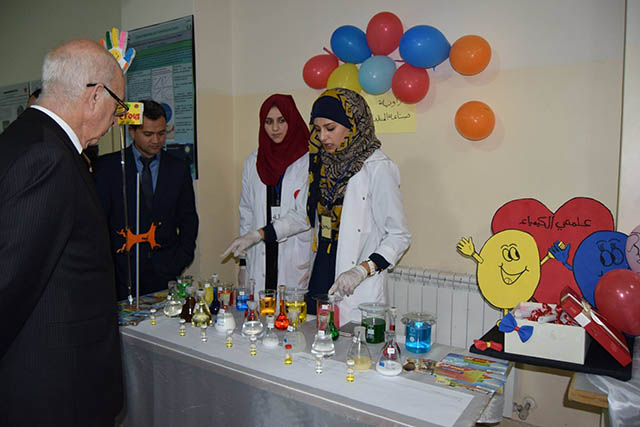 Hebron University Chairman of the Board of Trustees Dr. Nabil Al-Jabari inaugurated HU 4th Science and Technology Week. The opening ceremony was attended by Hebron Governor, Kamel Hamid, members of HU Board of Trustees and HU Vice-Presidents, a number of HU staff and faculty, and delegates from health, academic and business institutions.

Dean of the College of Science and Technology and organizer of the Science Week, Dr. Nabil Al-Hassasneh, welcomed the attendees and thanked Dr. Nabil Al-Jabari for sponsoring the activities of the Week. Dr. Al-Hassasneh briefed the attendance about the objectives and importance of the event, the types of scientific workshops included and the participating companies. "Such events highlight the creativity and skills of students; they encourage innovation, leadership and excellence," he said. He added that the students, through their graduation projects, had proven their scientific distinction in all scientific and industrial sectors.

Mr. Fawzi Abu Hillel, head of the Directorate of Education in South Hebron thanked HU for working hand in hand with schools and directorates of education through teacher training programs which have had a positive impact on the promotion and improvement of education quality in Hebron.

In his speech, Mr. Kamel Hamid, Hebron Governor, talked about the role of the university in supporting creative individuals and their projects, which would contribute to the advancement of the Palestinian people. He also commended the efforts exerted by HU Administration to develop science and technology and to open up new horizons for the Palestinian youth in all scientific and health fields.

Expressing his appreciation of the outstanding efforts made by the College of Science and Technology, Dr. Nabil Al-Jabari emphasized the importance which HU attaches to the application of technology in higher education as well as the importance of keeping pace with the latest scientific developments throughout the world. He also talked about HU plans such as the establishment of special schools, a teaching hospital in Hebron, and a college for girls in Yatta.

It is worth mentioning that the event runs from Monday 28 to Thursday 31 March 2016, from 10 am until 5 pm, and the invitation is open to all institutions, schools and individuals.