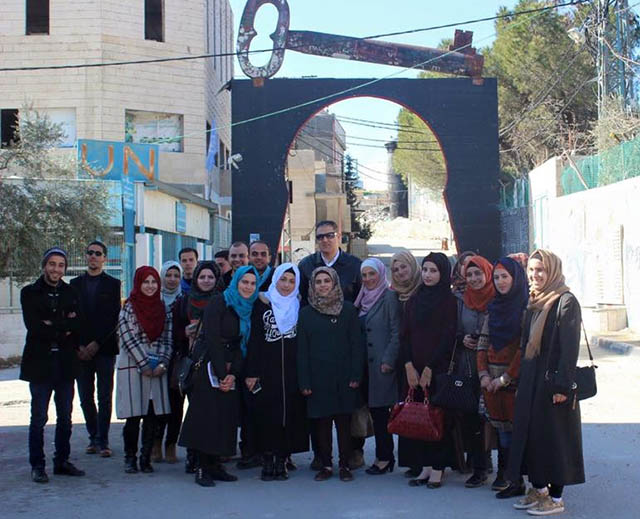 As part of the "International Refugee Law" Course, students of Hebron University Law School have conducted a study tour to BADIL (Resource Center for Palestinian Residency and Refugee Rights) in the city of Bethlehem. The tour included a visit to the Aida Refugee Camp, Refugee Center, and a discussion on the situation of refugees in the camps of Bethlehem, as a model for the 58 Palestinian camps scattered in Syria, Jordan, the West Bank, Lebanon, and the Gaza Strip. Dr. Mutaz Qafisheh Dean of Hebron University College of Law and Political Science and the Instructor of the Refugee Law Course, expressed his gratitude to Badil Center and its Director, Mr. Nidal Azzah, and to Refugee Center and its Director, Mr. Salah Ajarmh, and their dedicated staff for the warm welcome and generous hospitality. The tour was supervised by three staff members of the Hebron University Law School and Legal Clinics: Mr. Hendam Rjoub, Ms. Rash Sobuh, and Mr. Mazen Zaro.

The visit began with a discussion on the ongoing Palestinian Nakba, in which Mr. Azzah addressed the Zionist policies relating to the expulsion of Palestinians since 1917, through the year 1948, then in 1967, to the present day, including the displacement of Jerusalem residents and the inhabitants of Area "C" and the old city of Hebron, as well as the policies of land confiscation and house demolitions that bring new waves of displacement. Azzah explained the current situation of Palestinian refugees in the world, who make up two-thirds of the Palestinian people, and the demographic distribution in various countries across the globe. He focused on the hardships facing refugees, especially the present Palestinian refugees escaping Syria.

Badil handed each participating student a collection of books and publications relating to the status of refugees. Students then visited Badil's specialized library. It is to be mentioned that the Hebron Law School is about to sign a memorandum of understanding with Badil Center, based on which Badil will teach a course on international refugee law, which is compulsory course for students of the Department of Public Law. Badil will provide the Law School with publications related to refugees and organize joint training courses, workshops, and conferences.

At the Aida refugee camp in Bethlehem, as a model for the Palestinian camps, students learned about the history of the camp, its legal status, population and areas (cities and villages) from which they displaced, UNRWA's services, associations and youth committees as well as political movements in the camp, problems facing residents, social life, identity, customs, traditions, the relations of refugees with surrounding areas, and emigration from the camp. This camp will be used as a model for other camps that students will explore through this course. Students attended a lecture at the Aida camp delivered by the Director of Refugee Center Mr. Salah Ajarmh and Ms. Shatha Azzah of the same Center.

{gallery}news/2016/02/4{/gallery}