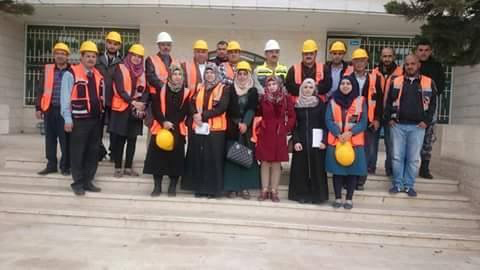 In collaboration with the Palestinian Ministry of Labor bureaus in the cities of Hebron, Yatta and Halhul, the HU Labor Law Clinic (which was created as part of clinical programs of the College of Law and Political Science last academic year) carried out inspection visits to work installations to ensure the application of labor law. Ten law students participated in the process that targeted factories, kindergartens, buildings under construction, carpentry and blacksmith workshops, supermarkets, municipalities and restaurants. Students have overseen the extent to which those installations adhere to labor law, particularly the availability of occupational safety, minimum wage, insurance against work injuries, child labor, working hours, overtime allowance, official holidays, annual and sick leaves, end of service indemnity, and compensation for arbitrary dismissal.

The inspection campaigns included awareness programs for workers and employers and the issuance of fines for violators of the law and referring those who breach the law to prosecution. Students have acted as police officers by accompanying the inspect of the Ministry of Labor. In addition, students provided a limited number of pro-bono legal advices to workers.

Students were divided into three groups, one worked in the city of Hebron, another in Yatta (south Hebron), and a third in Halhul (north Hebron). This clinic has been implemented this current fall semester through the following students: Arij Sada, Inas Makamra, Aya Jabari, Sabrin Sabarna, Fida Makamra, Majdolin Amr, Manar Dawada, Hala Masri, Khulod Samouh, and Gofran Shehada. The implementation was conducted under the supervision of Mr. Bilal Fanoun, a lecturer at HU law school, with the support of legal clinics staff.