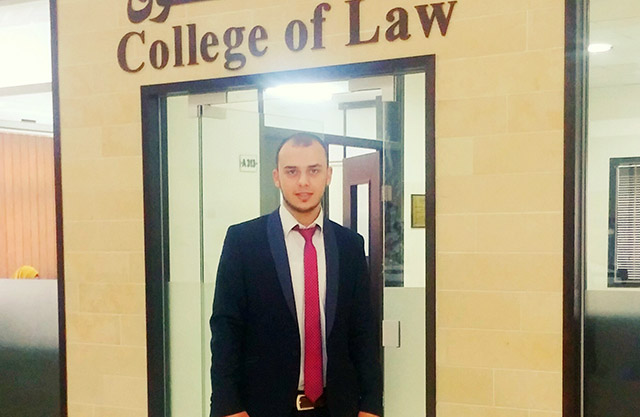 The Palestinian American Research Center (PARC) elected a graduate from the Hebron University College of Law and Political Science to be awarded the annual Gerner award to Mr. Mazen Zaro for his remarkable volunteer work at Hebron University's Legal Clinics and his research project submitted to PARC during the course of his LLB education at Hebron University early this year.

The Gerner Award is an annual award in memory of PARC board member Dr. Deborah J. Misty Gerner who passed away in 2006. Gerner spent more than 25 years studying, visiting and living in the Middle East and specialized in the Arab-Israeli conflict and Palestinian affairs.

Dr. Gerner was a political scientist by training. Her research focused on Palestinian nationalism, conflict resolution, mediation, human rights, gender and democratization. Her books include One Land, Two Peoples: The Conflict Over Palestine (1994) and Understanding the Contemporary Middle East (2000), and she was part of the Quaker Working Party that produced When the Rain Returns: Justice and Reconciliation in Palestine and Israel (2004).

Mazen is now working as legal researcher Hebron University Legal Clinics. PARC will present the award to Mazen at its office in Ramallah.