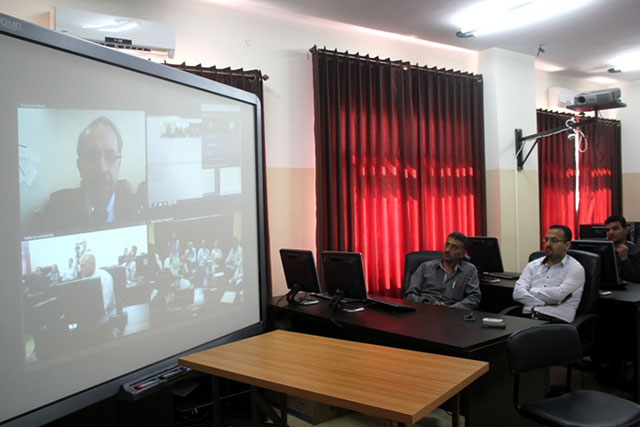 In cooperation with Cardiac Surgery Department in Emory College- Atlanta University- USA, Arab American University in Beirut, and Spatiality Hospital in Jordan , Hebron University held a scientific lecture titled "Head to Foot Cardiac and Vascular Evaluation of Patients", through video conference strategy. This step comes within the university's efforts seeking to establish the Medical College for the purpose of supporting the educational process in the university and the community .

Dr. Khusrow Niazi ,Cardiovascular specialist in Emory College, delivered this lecture speaking about the necessity of having head to foot vascular examination , in addition to get acquainted with the latest developments in this field. various medical cases and their treatments were addressed during the lecture.

the lecture was delivered in the presence of Dr.Tawfiq Qaimari Dean of College of Pharmacy and Medical Sciences, Dr. Hussien Jabarin Dean of college of Nursing, and Dr.Hisham Nassar, Cardiologist from Ahli Hospital in Hebron, in addition to faculty members from the university and a number of physicians and nurses from various hospitals in the governorate.